The Nostalgia RMO4RR is another one of the brand's Retro line of microwaves. It costs a shade over $120 and comes in a wide range of colors. The package looks sleek and should add flair to your mid-century style kitchen. But does it have the bells and whistles for us to suggest it to the readers? Let us find out.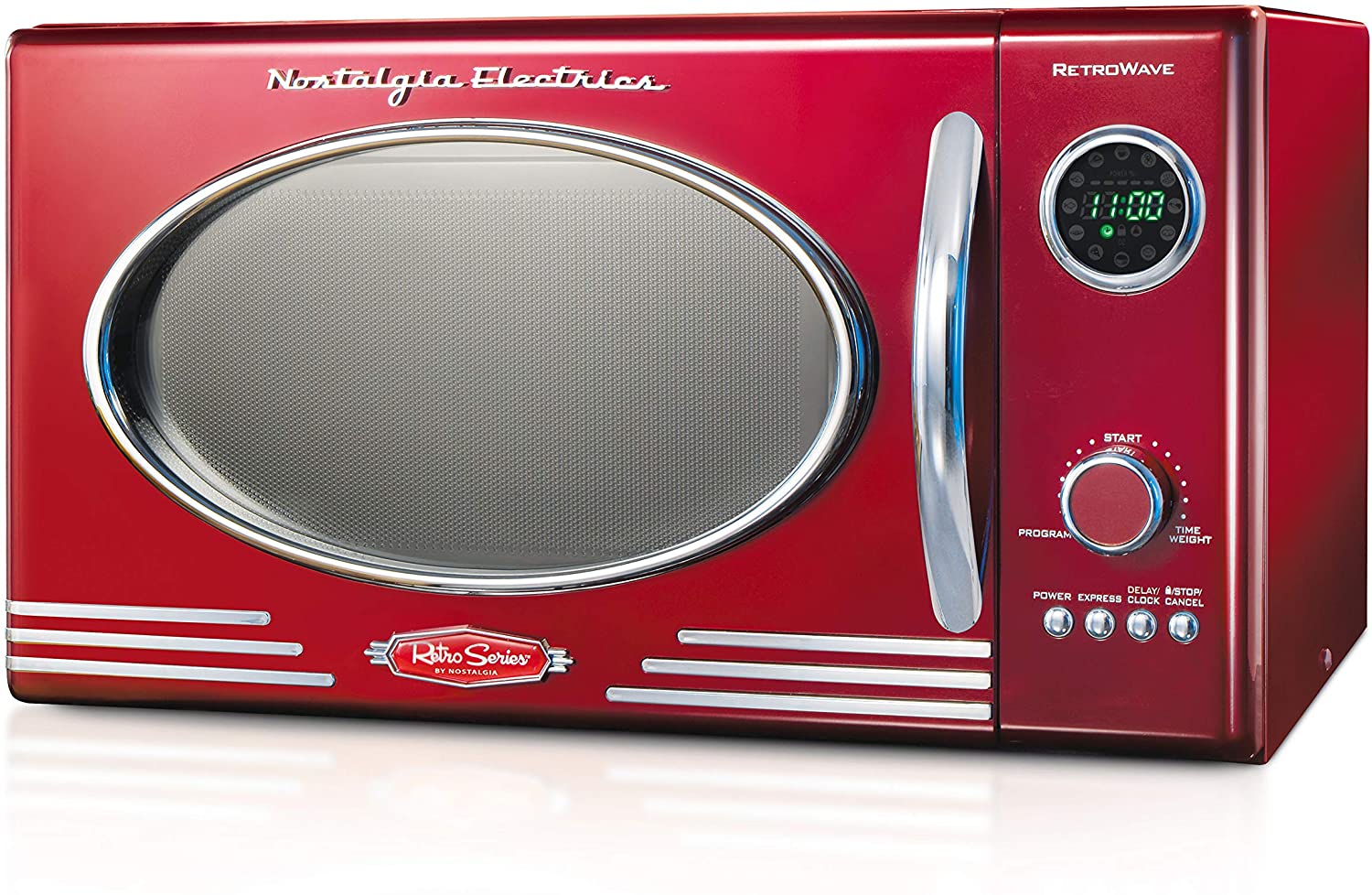 This is our Nostalgia RMO4RR review.
Pros
12 pre-programmed cooking settings

Comes in five unique retro accents

Even cooking due to rotating clock carousel
Cons
800-Watt is not a lot of power

Issues with most units due to poor quality control
Specifications
Product Type: Countertop

Overall Dimension: 19 x 15 x 11 inches

Capacity: 0.9 cubic foot           

Primary Material: Metal

Weight: 34.3 lbs

Wattage: 800-Watt
Design and features
Brand Nostalgia understands that not every house follows the same pattern. So they ship the Nostalgia RMO4RR in five different and colourful variants – Metallic Retro Red, Seafoam Green, Ivory, Jet Black, and Aqua. All of them come with chrome accents and retro handle making them perfect for your kitchen setting.
It also has a turn-and-push program dial allowing you to set the appropriate cooking style every time you put something in to cook. Below that, you get four buttons in same chrome accents symbolizing Power, Express, Delay/Clock, and Lock/Stop/Cancel options.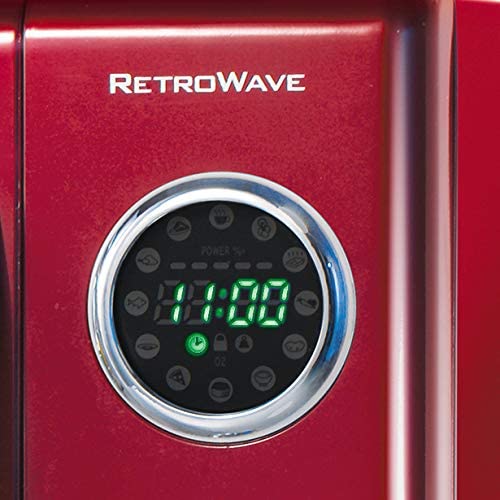 There is no touch panel on the Nostalgia RMO4RR retro microwave. You instead get a round LED dial which visualizes a digital clock and highlights the current setting in use. Opening the door, you will find the same chrome finish inside and a 10.5-inch roundtable. The build looks solid and should sustain normal wear and tear comfortably.   
Performance
The Nostalgia RMO4RR is an 800-Watt machine with 0.9 cubic feet oven capacity. It comes with a 10.5-inch roundtable for even heating of food items. The microwave stretches 19 x 15 x 11-inches and weighs a good 34.3 lbs. The body is a mix of metal and plastic with most parts made of the former.
Talking of its cooking capabilities, it ships with 12 pre-programmed settings and a delay timer for managing most delicacies, such as pizza, potatoes, rice, bread, dinner plates, chicken, and beef with ease. Also present is a toggle for managing the power and adjusting it between 20 per cent and 100 per cent. If you are out of time, you can press the express cooking option for it to speed up its processes.
The power is average at best, and it takes higher-than-most time to heat stuff. The microwave further starts degrading with time, and we had a hard time trying to use it after a few days. When we went through the reviews on Amazon, we realized most people voicing a similar concern. Not only that, but there were also multiple failures, such as lights not turning on, sparks, voltage distortion, and more within a few months of usage.
Our unit arrived in perfect condition, and we couldn't stop raving about how good it looked. We also enjoyed our coffee from it for a week and a half. But on the twelfth day, the inner lighting went off, and the same cup started taking a tad longer to cook. So not a very pleasant experience overall.
Is Nostalgia RMO4RR worth buying?
Yes, the Nostalgia RMO4RR has a nostalgic factor and helps you reminisce your fabled-old days, but that is where it ends, mostly. It doesn't have the power to handle complicated dishes and barely works for a few months before wishing goodbye.
It is high time that Nostalgia starts taking its QC seriously. Yes, they are good at sending refunds and offer a one-year warranty on these, but what is the benefit if the product fails in its primary purpose? You may comment that it is cheap and looks good, but then what? It is not one of those that you would install in your kitchen or bedroom just for the way it looks.
To conclude, we would love to love the Nostalgia RMO4RR, but it has some persisting issues, not limited to our unit only. They need to improve themselves to allow people to rave about their products, and use them long enough.
Here is the Amazon product page link of Nostalgia RMO4RR for you to know more about it.