For many years, COMFEE'  has been a trusted brand in small kitchen appliances for people all over the world. Its AM720C2RA-G is a part of their retro microwaves lineup that they have been churning out consistently. It is a 0.7 Cubic feet 700-Watt machine with a plethora of features but in a form factor small enough to fit in a cabinet or a corner of your counter without being intrusive.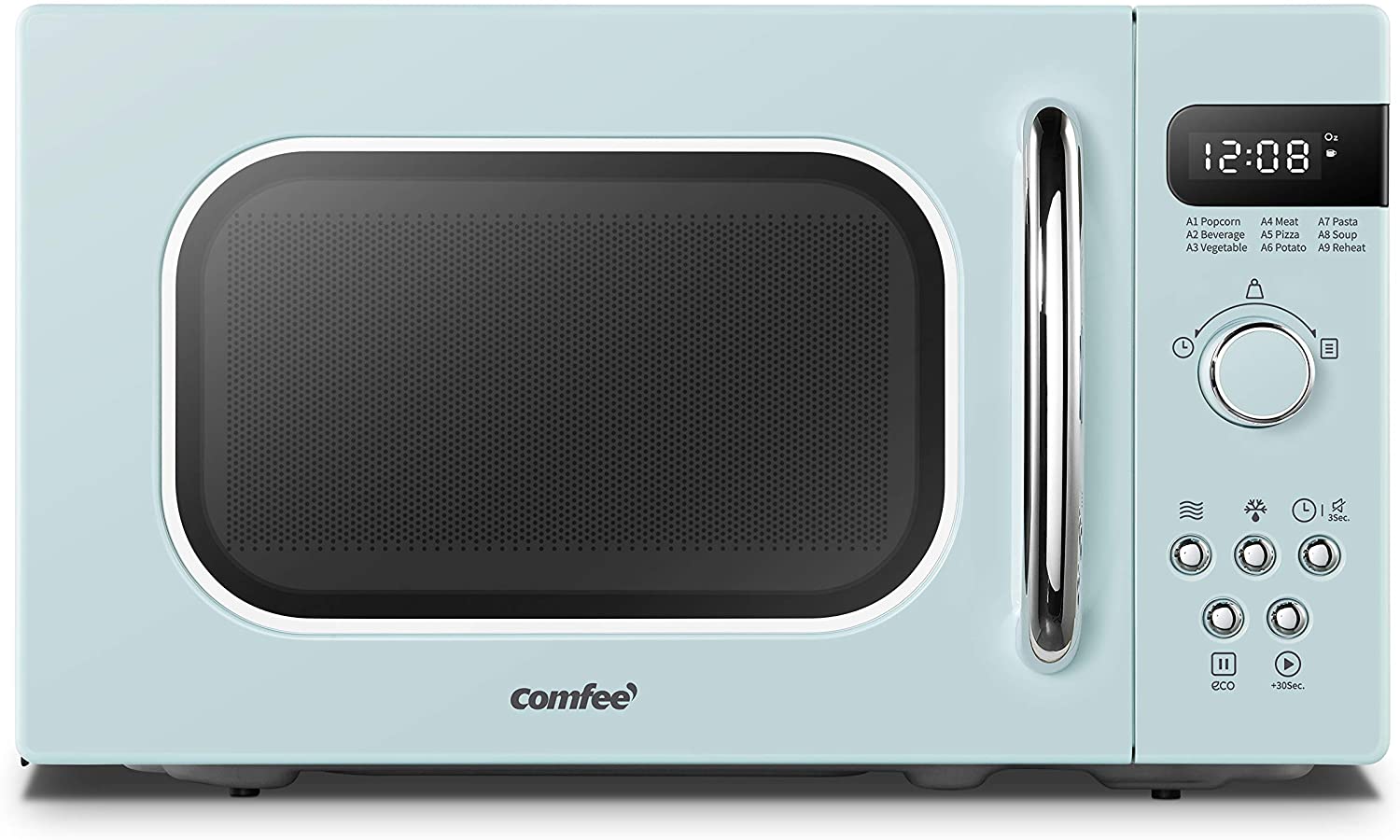 But is the COMFEE' AM720C2RA-G worth buying? We find out in this review.
Pros
Ten power levels for managing temperatures better

It allows defrosting by weight or time for better convenience

Energy Saving Eco Mode to reduce power usage in standby mode by up to 50 per cent
Cons
Specifications
Product Type: Countertop

Overall Dimension: 17.3 x 13 x 10.2-inches

Capacity: 0.7 cubic feet            

Primary Material: Metal

Weight: 23.4 pounds

Wattage: 700-Watt
Design and features
The COMFEE' AM720C2RA-G is a "chic-meets-functionality" microwave. It comes in Pastel Green which resembles aqua more than green, Passionate Red, and Cream variants for users to choose the appropriate color to match the surrounding. For the retro feel, it offers rounded buttons, curved handle, an LED display with a clock built-in, and a lot more cosmetic features to give you that vibe.
At 17.3 x 14.1 x 10.2-inches, it is compact enough and has a 10.04-inch glass turntable for even cooking. The internal dimensions are an okayish 12.05 x 11.97 x 8.11-inches for accommodating small dishes and other cutlery conveniently. The turntable is a position-memory variant, which means that it gets back to its original position after finishing cooking for additional safety.
Also present is a mute button to turn off the beeps if you prefer a quieter kitchen. There are five retro-style buttons on the front for various functions that they help in improving the overall look and finish.
Performance
The COMFEE' AM720C2RA-G is a 700-Watt microwave which is an average capacity at best. It has 0.7 cubic feet oven capacity with ten power levels and does well in most conditions. The LED display comes with a clock and kitchen timer to help you keep track of the cooking. Also, there is a child safety lock option built-in to keep your child safe from it.
The retro microwave also has an easy defrost button, which lets you choose the same as per the weight, or you can set your own time. It enables you to increase the cooking time by 30 seconds during defrosting or microwave cooking to ensure that the food is ready-to-serve. It doesn't have a memory or multi-sequence cooking to aid the user, but we don't expect a sub-$100 device to equip everything.
Talking about the performance, the first thing we would like to point out that the company, like most of its competition, suffers from poor QC. If you get the perfectly-working unit, you can expect it to perform as advertised. It draws in decent power and is capable of heating most items. The buttons perform amicably well and offer sound, tactile feedback. Overall, there isn't much to complain about the COMFEE' AM720C2RA-G provided you get the right unit.
Is COMFEE' AM720C2RA-G Retro Countertop Microwave worth your money?
How much do we expect from a compact, cheap kitchen accessory, especially if it is a retro microwave? We merely expect it to heat our food well and offer decent functionality and come with accents that resemble those old days.
The COMFEE' AM720C2RA-G does so well. It offers a good set of options for improving the overall experience and is an excellent addition to your kitchen setting.
Here is a link to the Amazon page of the COMFEE' AM720C2RA-G for you to know more.