Nostalgia's Retro lineup is all about good-looking compact microwaves that are a far cry from the traditional ones. These usually cost around $100 in the States and suit those who prefer a retro setting for their beloved homes.
Today, we are reviewing the Nostalgia RMO4AQ Retro microwave which retails for around $110 and comes in a beautiful and sleek retro design, as the company would like to describe it. As for functionality, it is an 800-Watt machine with numerous features onboard.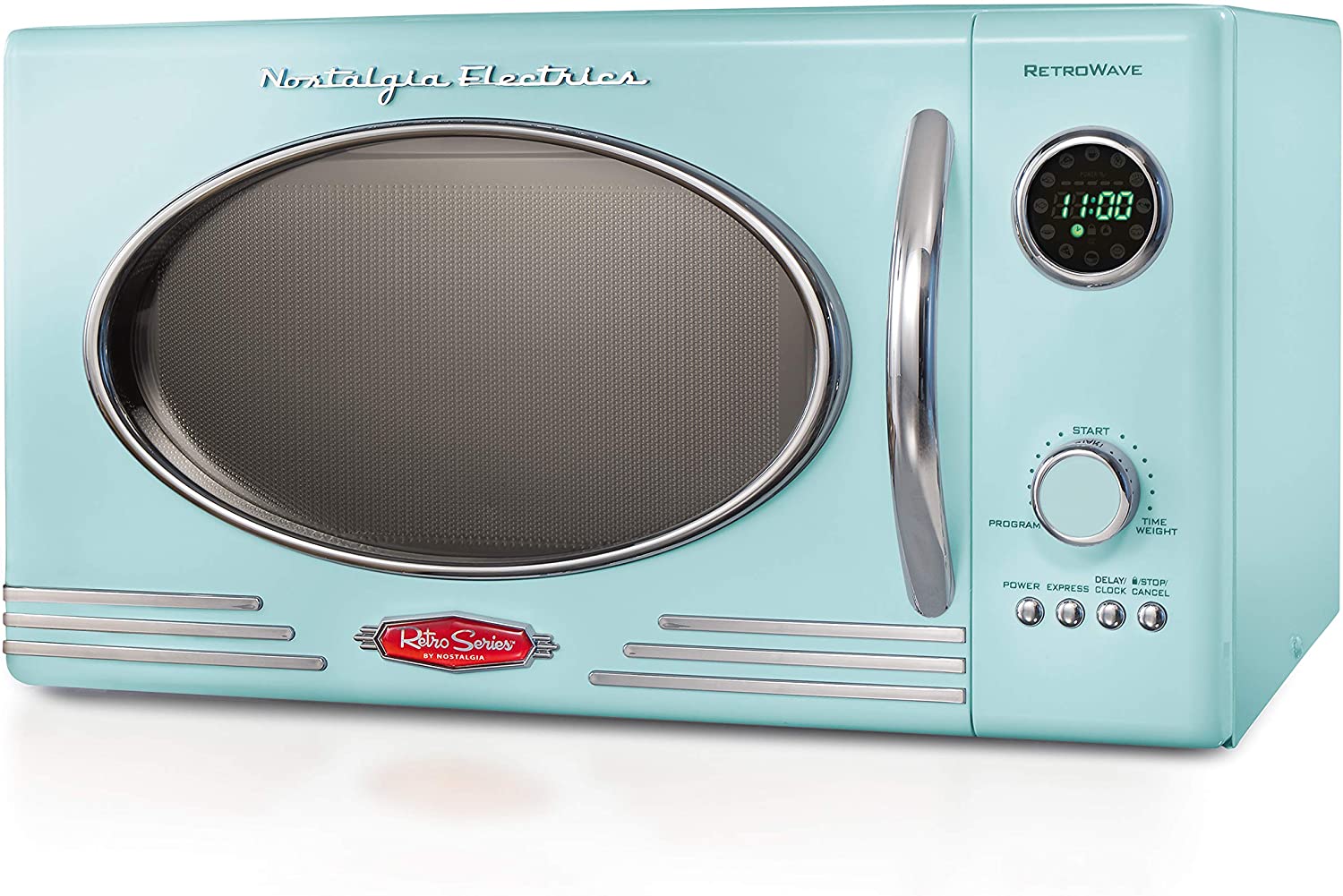 Do we suggest you bring it home? You must keep on reading to know our verdict.
This is our Nostalgia RMO4AQ review.
Pros
0.9 cubic foot oven capacity is on the higher side for such niche products

Convenient cooking controls to cater to different foods appropriately

The design language is impeccable
Cons
At 800-Watt, it is not the most powerful

Quality control remains an Achilles' Heel for Nostalgia products
Specifications      
Product Type: Countertop      

Overall Dimension: 19 x 17.9 x 11 inches      

Capacity: 0.9 cubic foot                 

Primary Material: Metal   

Weight: 30 lbs      

Wattage: 800-Watt
Design and features
Nostalgia ships the RMO4AQ in five different colors – Aqua, Ivory, Jet Balck, Seafoam Green, and Metallic Retro Red. All of them look stunning, but the Retro Red had our heart. Irrespective of the color you get, you will find retro accents, door handle, and control panel finished with chrome.
On the top right of the device, there is a digital clock with an easy-to-read LED display and 12 pre-programmed settings for your favourite food within a chrome circle. A turn-and-push dial sits below that and houses some tweaks to adjust the cooking levels.
On the lower right, you will find four buttons for Power, Express, Delay/Clock, and Lock/Stop/Cancel options. Opening the microwave door, you will be greeted with a glass carousel that aids even cooking. We cannot complain much about the build of the Nostalgia RMO4AQ as it is all that a user would expect.
Performance
All the Nostalgia's Retro microwaves follow a similar color scheme with a two-tone finish. The Nostalgia RMO4AQ is no different. The body is mostly metal with the handle and accents made of plastic. It stretches 19 x 17.9 x 11-inches with a bodyweight of 30 pounds. It is compact by all means and will fit your countertop or the corner beside your fireplace with ease.
The Nostalgia RMO4AQ Retro is an 800-Watt, 0.9 cubic feet oven capacity machine which looks okayish for its size and the price it demands. We began testing as usual with basic items, such as coffee and tea. The performance was as we have come to expect from such microwaves. These are not traditional microwaves, and they take longer than usual to finish any task.
When we moved on to chicken, the unit halted abruptly and failed to start for the next hour even after many tries. Once it started, it became unbearably hot, and we had to wait a good ten minutes before we could use it again. Once it completed the task, we realised that it was able to cook the chicken evenly. But it stopped working altogether after three days of testing, and we had to request for a new unit.
Is Nostalgia RM04AQ Retro worth your money?
The Nostalgia RMO4AQ Retro is a beauty. This thing is probably the first item that will catch the attention of your guest, and they will inadvertently rave about its looks. We wished to be able to say the same about its performance department, but it's an entirely different story.
The microwave performs well in the basic department but doesn't stretch well. It tends to run into issues ranging from not responding to becoming too hot to sparks. It is not an ideal way to describe a product's performance. You can buy the Nostalgia RMO4AQ Retro if you are okay with its below-average performance and want to spend $100 on a sleek-looking microwave.
Here is the link to the Amazon page of Nostalgia RMO4AQ Retro, if you want to know more about it.