We have all bought things that help in elevating the overall look of our kitchens and fireplaces. If we talk retro, one of the most sought-after items has to be the microwave. They are small, they add up to the overall flair, and more importantly, do their job of microwaving. 
The product in contention today is the Nostalgia RMO7AQ Retro. It is from the well-known brand Nostalgia, and as the name suggests, tries to build that in our head. So is it worth the $90 that it generally sells for or should you skip it? We find it for you.
This is our Nostalgia RMO7AQ Retro Microwave Review.
Pros
Compact for any countertop

Easy to operate

12 pre-programmed cooking settings
Cons
700-Watt makes it feel underpowered

Heats complex food unevenly
Specifications
Product Type: Countertop

Overall Dimension: 17.5 x 13.5 x 10.25 inches

Capacity: 0.7 cubic foot           

Primary Material: Metal

Weight: 23.2 lbs

Wattage: 700-Watt
Design and features
The Nostalgia RMO7AQ Retro Microwave is a countertop model that is compact at 17.5 x 13.5 x 10.25-inches. It comes in three color accents – Aqua, Classic White, and Red. The front is kept clean with sleek retro accents with the door handle and the control panel painted in chrome.
Opening up the door, you will find a rotating glass carousel for even cooking and reheating. On the right side, you will find a LED display with a cooking timer and 12 pre-programmable settings enclosed in a chrome circle. Below that, you fill four buttons for managing the microwave. These are for Micropower, Express, Preset/Clock/Defrost, and Pause/Cancel. 
Below that, you will find a turn-and-push program dial with options to adjust cooking levels, such as Auto cooking, Instant/Start, and Time/Weight. The build is mostly metal, and the Nostalgia RMO7AQ Retro weighs a convenient 23.2 lbs.
Performance
The Nostalgia RMO7AQ Retro Microwave is a 700-Watt, 0.7 cubic foot machine with a decent 9.6-inches turntable. It comes with an acceptable five power level integration to efficiently manage your cooking. The turn-and-push dial takes care of heat levels, and there is a digital clock to highlight the current settings in use and the timer.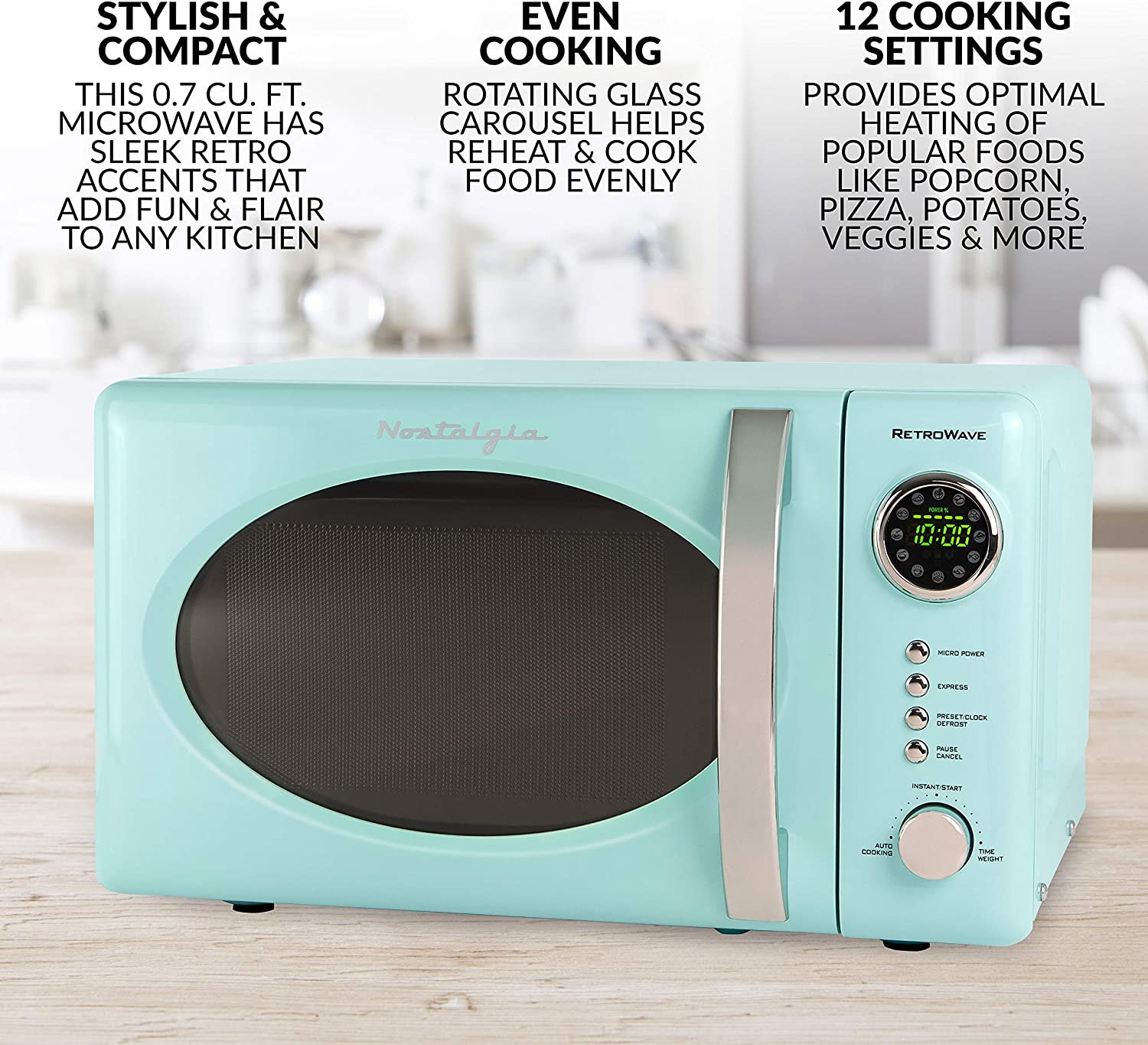 The Nostalgia RMO7AQ Retro Microwave is reasonably easy to operate, buts it's a boring device. Don't get us wrong, it looks good and accentuates the style-quotient, but its performance is nothing to boast about, and that disappointed us.
We tested it with typical dishes like pizza and fish curry. It took a lot of time and almost killed half of our appetite. When we switched to multi-level delicacies, its incompetence was far more visible. The heating was inconsistent, and there were times when it stopped its operation midway.
Even other verified users complained of its inconsistency. There were questions asked on the company's QC as many units failed to start, and there were several that caught fire. Even though we liked the compactness and its visual charm, the performance department was underwhelming and left a lot to be desired.
Wrap up
After reviewing several models from Nostalgia's lineup of retro microwaves, we are beginning to realize that they look better than they perform. These are good for basic cooking but do not expect them to handle complicated delicacies. Also, these are cheap at around $90, but they barely pay the money's worth. 
Should you buy the Nostalgia RMO7AQ Retro Microwave? Well, if you are looking to add it to up your visual game, then it may be the right choice, provided the company sends you a working piece. If you are expecting it to perform like your traditional microwaves, be ready to have your hopes shattered terribly.
Here is the link to the Nostalgia RMO7AQ Retro Microwave's Amazon product page for more information.