Nostalgia has a range of retro microwaves to cater to people looking for old-school furniture. These are mostly compact, look sleek and have decent power to back itself. Many people buy them merely for their looks and the feel. But they also perform like a regular microwave.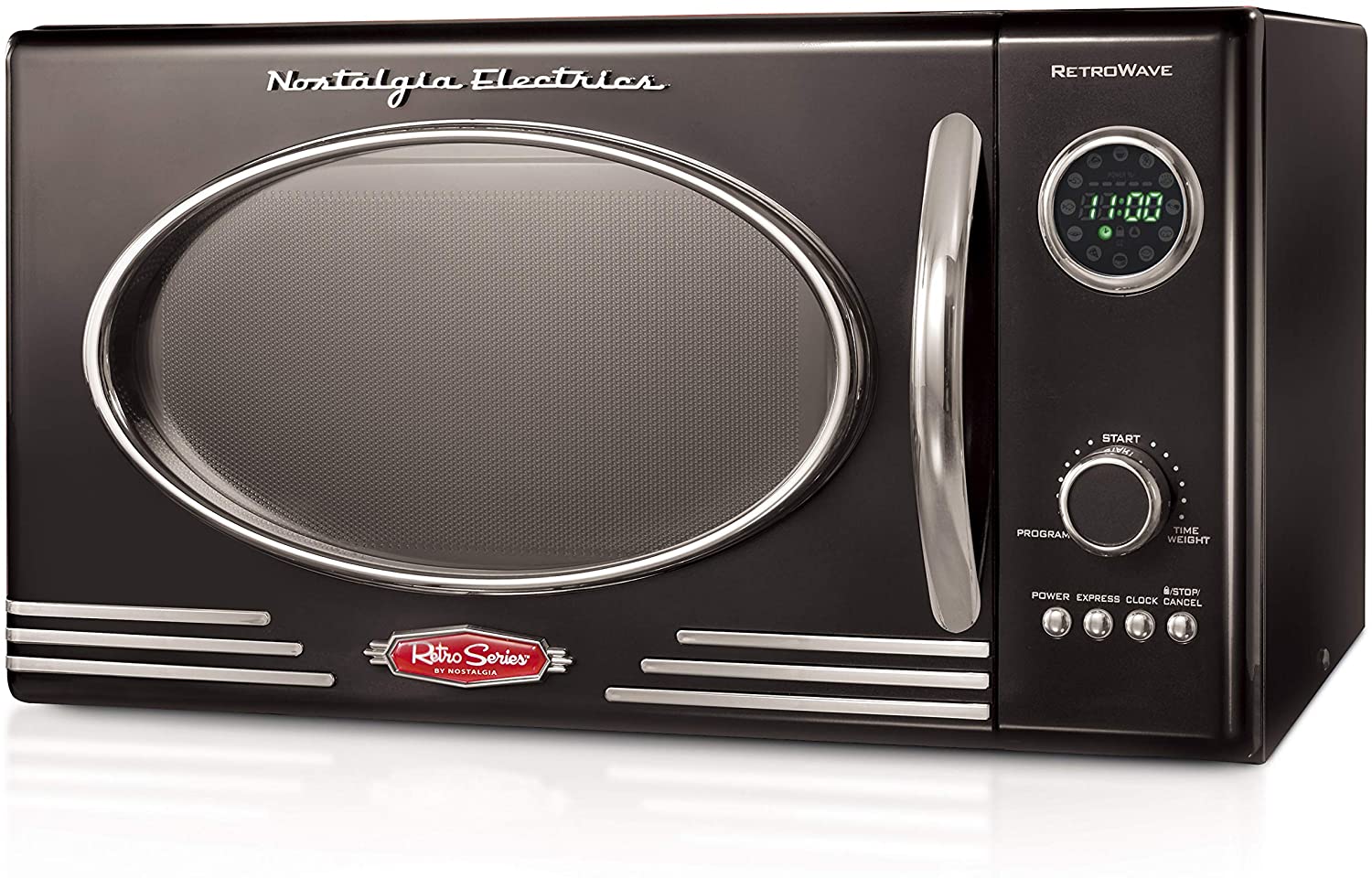 In this article, we review another model from Nostalgia's retro microwave lineup, the RMO4BK.
Pros
12 pre-programmed cooking settings

10.6-inch turntable for even cooking

10 power levels
Cons
800-Watts is average at best

Poor quality control
Specifications
Product Type: Countertop

Overall Dimension: 19 x 15 x 11 inches

Capacity: 0.9 cubic foot           

Primary Material: Metal

Weight: 34.5 lbs

Wattage: 800-Watt
Design and features
The major selling point of the Nostalgia RMO4BK is undoubtedly its design. It comes in five different color options – Aqua, Ivory, Jet Black, Seafoam Green, and Metallic Retro Red. The Ivory and Jet Black variant looks the classiest.
The chrome door handle is also kept in retro-style, and there are steel accents along with the brand logo. There is a circular digital clock-style LED display to highlight the current settings and the cooking time. It is the perfect setting to make you feel nostalgic.
Below that, you will find a program dial with 12 settings and offering turn-and-push functionality to choose the desired option. There are four chrome-styled buttons below for the essential functions such as Power, Express, Clock, and Lock/Stop/Cancel.
When you open the door, you will find a 10.6-inch rotating glass carousel to help cook food evenly. It doesn't have the memory setting to reset itself after every cooking instance. So there are not too many extravagant features onboard, but the basics aren't missing at least.
Performance
The Nostalgia RMO4BK is an 800-Watt with a 0.9 cubic foot oven density. The wattage is average, and we have seen retro microwaves with higher capacity from the company and its competitors. You get 10 power levels to get the exact voltage you seek, and it comes with 12 pre-programmed cooking settings for the food that you are most likely to cook.
There 19 x 15 x 11 inches dimension is suitable for most dishes, and you can use the program dial to navigate power options. The glass carousel is a welcome addition and aides in even cooking. One gripe that we had is the lack of internal lighting, but given the price constraint, it is acceptable.
Talking of real-world usage, it depends on your luck. With that, we mean that the company has a terrible QC, and we have spoken about it in other reviews as well. Even when you read its reviews, you will find people complaining of getting a faulty unit that didn't start or had sparks coming from it when the user plugged it.
We, luckily, got a working unit, which performed decently. Given the lower wattage support, it takes longer to heat complicated dishes, and we also found some inconsistency creeping in. The buttons and dial work well, and we got tactile feedback from them.
Overall, the Nostalgia RMO4BK is a decent piece that tries to emulate the modern microwaves well, but we would love to see it come equipped with more power.
Is Nostalgia RMO4BK worth your money?
Yes and No. Yes, because it looks good and is an excellent addition to your retro kitchen décor. No, because it has average power and will struggle to heat complicated dishes. The Nostalgia RMO4BK is a good addition if you do not expect too much from it. It is compact and fits a cabinet or a corner conveniently, but we wished that it had better performance overall.
If you find the product intriguing, here is the link to the Nostalgia RMO4BK's Amazon product page.