The Swan SM22080CN Retro Digital Combi Microwave is a retro microwave that comes in a plethora of variants. Looking for a low-powered version? You can go with 20L-800W. If you need more power, there is a 25L-900W. Also available are digital, manual, and digital with grill options for both the wattage options.
The price of most of these variants top at around $140. We have the 25L-900W and Digital-with-Grill variant to review. Let us see if it is worth the money.
Pros
The product has a lot of variants

It comes in a range of colors

12 Auto Cooking features
Cons
The internals make a lot of noise

The controls are confusing
Specifications
Product Type: Countertop

Overall Dimension: 11 x 19.2 x 15.4 inches

Capacity: NA           

Primary Material: Metal

Weight: 28 lbs

Wattage: 900-Watt
Design and features
The Swan SM22080CN Retro Digital Combi Microwave falls under the retro microwave group, and the appearance ensures that you don't misinterpret. It stretches 11 x 19.2 x 15.4-inches and weighs 28 lbs. Alongside, certain elements also give it a modern exuberance.
One surprise element that the company adds is there are nine (yes, nine) colors to choose from – Contemporary Black, Sky Blue, Vintage Green, Bright Orange, Rich Red, Traditional Cream, Delicate Pink, Pebble Grey, and Lime Green. We got the Traditional Cream variant, and it has a subtle matte finish but is a fingerprint magnet.
The body is mostly metal, with some elements like the door handle and silver ring surrounding the display being plastic. On the right, there is a LED display that houses the timer and the 12 auto cooking modes.
There are two knobs below it, the first of them for selecting the cooking mode and the other one for managing the temperature, time, and weight. There are two buttons below, one to start and the other one to pause/cancel.
Opening the door, you will find a 270mm turntable which users can replace with a grill. The retro microwave's capacity is 27 litres and is spacious enough for most medium-sized dishes. To conclude, we barely have anything to complain about, but the features are baffling and difficult to understand for a regular user.
Performance
The Swan SM22080CN Retro Digital Combi Microwave is a 900-Watt machine with 12 auto cooking options and can cook food evenly due to the turntable. The upper knob lets you toggle between them. The lower one is a push-and-turn one. You turn it to set the temperature, and once you are done, you will have to push it and then turn to set the cooking time.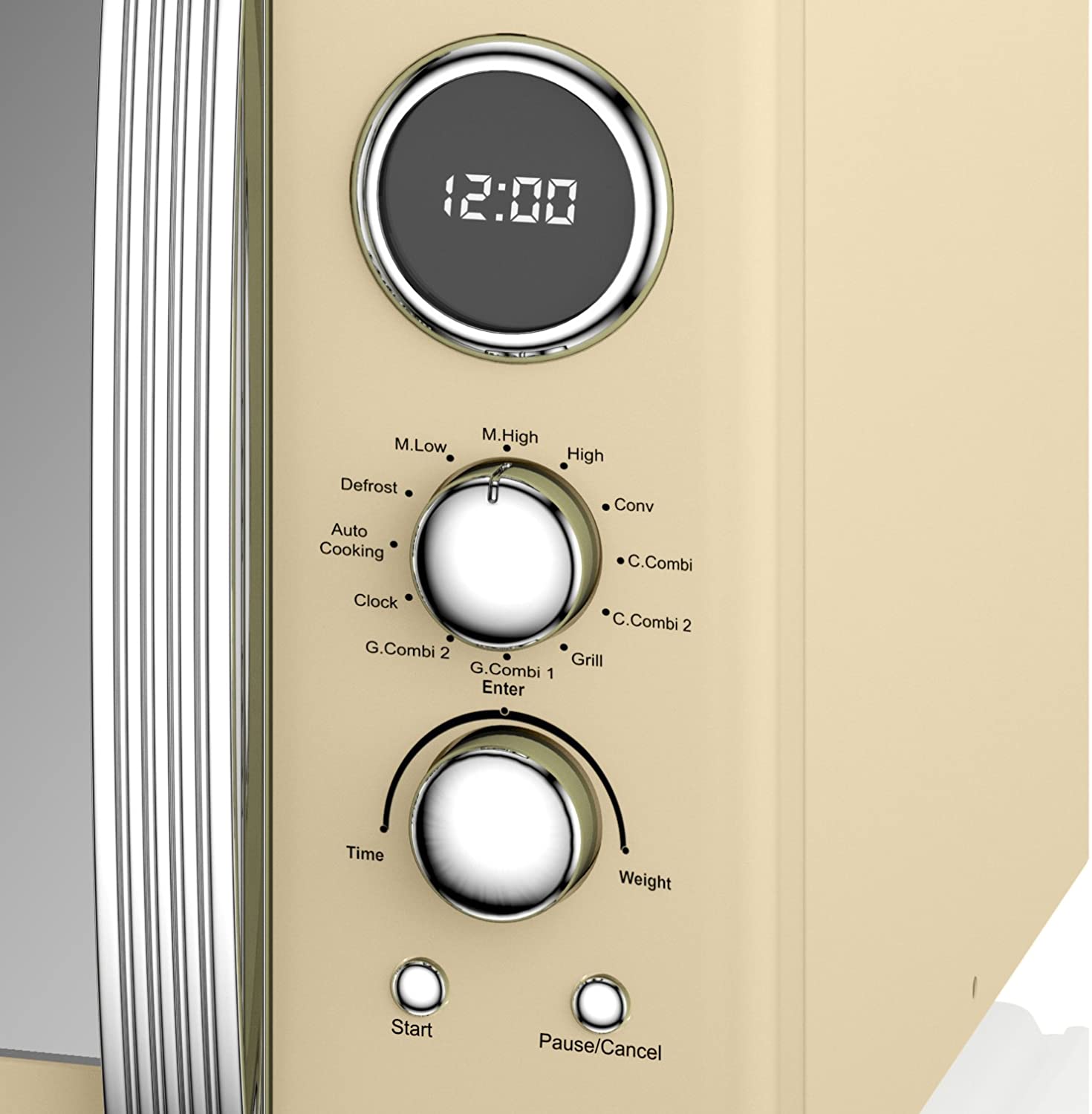 The 900-W means that it take more-than-average time to complete the cooking or defrosting and you will have to patiently keep an eye on the timer (given the light inside isn't bright enough). The satisfying part is whatever goes inside comes out as expected. It is not something that we have been able to say for most retro models.
Also, the interior being spacious, ensured that it isn't difficult to clean the device. Overall, from the performance standpoint, the Swan SM22080CN Retro Digital Combi Microwave is worth the money you shell out for it.
Is Swan SM22080CN Retro Digital Combi Microwave worth buying?
After a few days of using the Swan SM22080CN Retro Digital Combi Microwave, we had the perception that it would be an easy recommendation. Unfortunately, it was not to be, and the parts started showing signs of rust soon. Also, the menu is hard to toggle and will take some time for people to master.
Every product has its share of faults. But having quality issues is something which can deter people from spending their hard-earned money to buy it. Even though it has a lot of good things to rave about, the Swan SM22080CN Retro Digital Combi Microwave is a tough recommendation to make.