Galanz have been making microwaves since 1992 and became the largest manufacturers in 1998. Their foray into the world of retro microwaves piqued our interest. The Galanz 0.7 Cu Ft Retro Microwave Oven is the latest addition. With an asking price of $59.98, could this piece of equipment be great value in terms of features and performance?
Let's find out in this review.
Pros
Four colour options

Looks good

Fairly priced

Six power levels

Rotating glass carousel helps cook food evenly
Cons
Small capacity

Not as powerful as traditional microwaves
Specifications
Product Type: Countertop

Overall Dimension: 17.9 x 13.8 x 10.3 inches (W x D x H)

Capacity: NA           

Primary Material: Metal

Weight: 23.1 lbs

Wattage: 700 Watts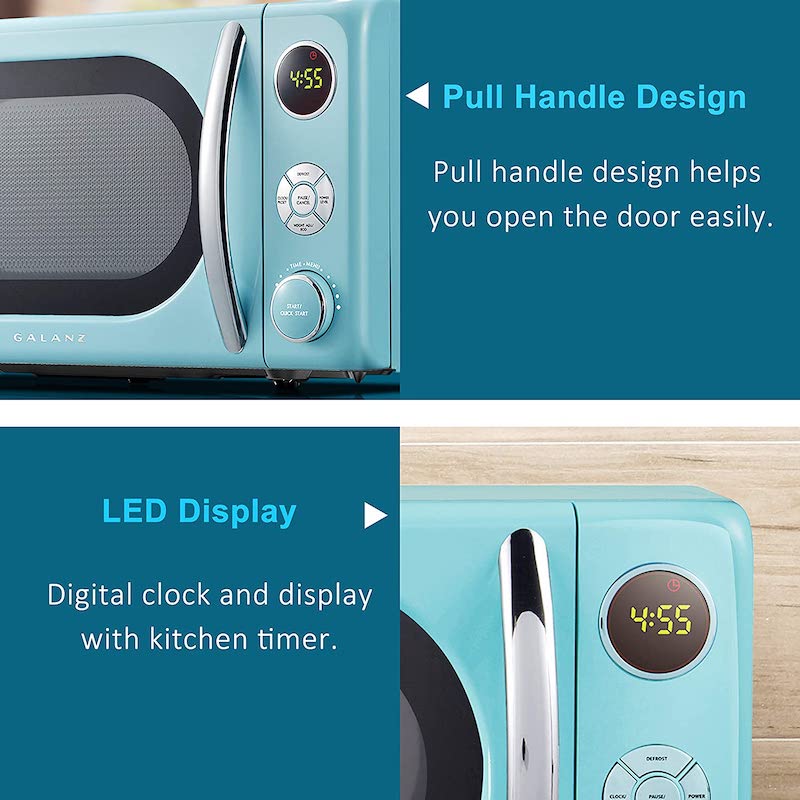 Design and features
The Galanz Retro 0.7 Cu. Ft. Microwave falls under the retro category, and the appearance doesn't disappoint. It stretches 17.9 x 13.8 x 10.3 inches and weighs 23.1 pounds. It is a good blend of retro looks and modern features.
You get a choice of four colours to choose from with this device: vinyl black, hot rod red, bebop blue, and surf green. Great retro colours that were popular on cars from decades past.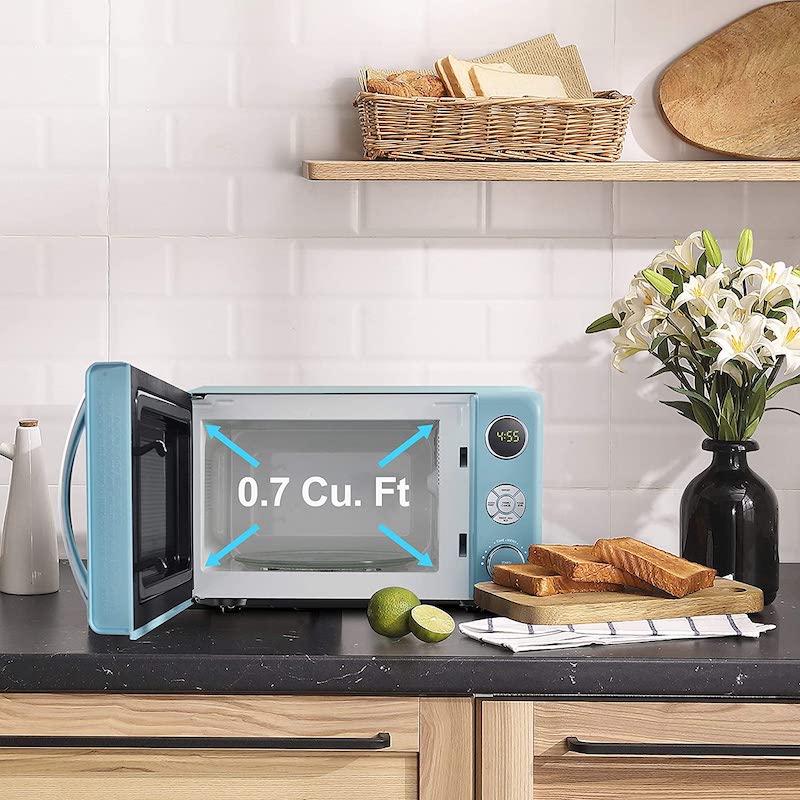 The body, like all microwaves, is made of metal and bits of plastic like the handle, the display and the buttons. On the right, there is a LED display that shows the timer and cooking modes selected.
Below the LED are five buttons that control the features and modes: express cooking, microwave cooking, time defrost, weight defrost, and multi-stage cooking.
Its capacity is 19.8 litres, which is small but sufficient. It also means that this small appliance can fit nicely in small apartments and dorm rooms as well.
It also has a child safety lock that can be used to lock the control panel to prevent accidental use by children.
Performance
The Galanz – Retro 0.7 Cu. Ft. Microwave is a 700-Watt machine with five cooking options that can cook food evenly due to the turntable. With adjustable power levels, defrost program and weight adjustment, it offers a variety of choices to complete your cooking tasks.
With up to 700 watts of power, it is capable of handling many tasks but not to the level you'd expect from traditional ones. However, at this price point, we aren't complaining. 
Cooking, warming, and defrosting. These are what we want a microwave to do and this one does it all, albeit a little slower. Adjust the power according to the task at hand and let the magic happen.
In a nutshell, it's a case of "you get what you pay for." About half the price of a good modern one and you get half the performance.
Is the Galanz – Retro 0.7 Cu. Ft. Microwave worth buying?
Retro style ones aren't known for their performance and indeed this one showed signs of underperforming. Nonetheless, at this price point, we shouldn't expect a solid and powerful one either.
If you are after a great looking microwave that doesn't take up a lot of space in your kitchen, this Galanz is the right one for you. If, however, performance and efficiency is what you need, you are better off looking into a modern microwave.
Buy the Galanz 0.7 Cu Ft Retro Microwave Oven today!